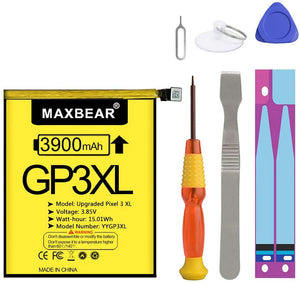 About this item
New Battery: Maxbear replacement battery for Google Pixel 3 XL, bring life to your phone with a replacement battery. Make your phone act like a new one

Compatible Models: Google Pixel 3 XL Battery Replacement Model: G013C Not suitable for HTC Google Pixel 3A or other models.

High-quality battery: Made of A-grade battery cells, long-lasting and durable. Built-in microchip to prevent overcharging, overdischarging and overheating, which will help extend battery life. Strict quality control. CE, ROHS and UL certification. Long battery life

Customer satisfaction. Customer satisfaction is our top priority.

Replacement Battery Specifications: The Google Pixel 3 replacement battery has a capacity of 3900mAh. The battery type is lithium ion, the voltage is 3.85V.