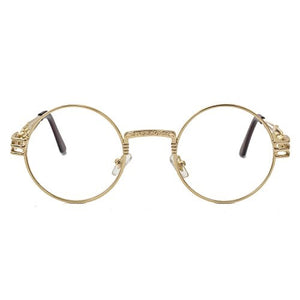 metal frame

plastic lens

polarized

Lens width: 45 millimeters

100% POLARIZED LENSES – These Classic vintage Circle Sunglasses are polarized and provide 100% Polarization efficiency while blocking and managing UV and HEV light, delivering a superior visual experience and glare protection. Polarized sunglasses eliminate glare and haze so your eyes are more comfortable and you can see better. Polarized lenses contain a special filter that blocks this type of intense reflected light, reducing glare.

PREMIUM MATERIAL POLYCARBONATE LENSES – Polycarbonate is a durable material. Although it has high impact-resistance, it has low scratch-resistance and so a hard coating is applied to polycarbonate sunglass and eyeglass lenses. Polycarbonate is highly transparent to visible light, with better light transmission than many types of other lenses.

COMFORTABLE FIT – Reinforced metal spring hinges offer an adjustable arm to fit different head sizes and face shape. Sunglasses can stay secure during outdoor activities. Perfect for Driving, Running, Racing, Boating, Fishing, Skiing and Climbing, Trekking, Outdoor Hiking, or Other activities enthusiasts.