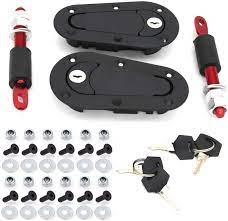 The hood latch is a great option that allows you to get away from standard hood pins that stick out of your hood and take away some of the looks.

Material: High quality zinc alloy material with plastic, high durability, anti-rust, lock design. Can be used on hoods, trunks, and other body panels that may need to be removed quickly.

Easy Installation: Precise design, solid and firm, without worrying about drilling problems. Easy to install and use.

More performance: even a more violent impact will not open. This latch will hold your car firmly. For professional rally cars, the hood lock needs to be installed, more secure for your car, comes with a set. And you won't consider the trouble of stealing your grill.

Kit contains 2 hood fasteners and studs, all installation fasteners. The pin can be inserted at the back or at the sides. Available in locking and non-locking key designs. This model is designed to sit on top of the body piece.